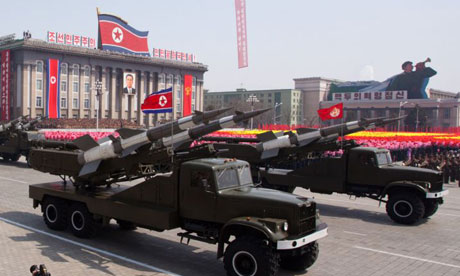 North Korea has said its missiles can hit the US mainland, in an apparent riposte to Washington letting South Korea extend the range of its arsenal.
South Korea on Sunday unveiled an agreement with the US that extends the range of its ballistic missiles by more than twice its current limit to 497 miles (800km) as a deterrent to the north.
The US has denied it has any intention to strike North Korea. It has more than 20,000 troops stationed in the south in defence of its ally.
North Korea's national defence commission said in a statement carried by the Korean Central News Agency that the north was prepared to counter any US military threat. "We do not hide [the fact] that the revolutionary armed forces … including the strategic rocket forces are keeping within the scope of strike not only the bases of the puppet forces and the US imperialist aggression forces' bases in the inviolable land of Korea, but also Japan, Guam and the US mainland."
North Korea is believed to be developing a long-range missile with a range of 4,160 miles (6,700km) or more that could hit the US. Two recent rocket tests both failed but neighbours fear the north is using such launches to perfect its technology.
The Guardian has the full article