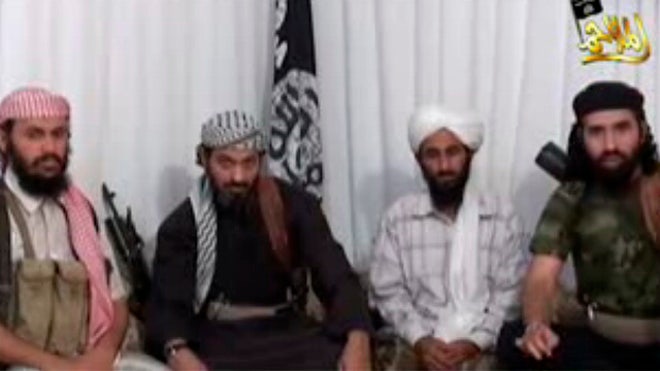 Hundreds of hardcore Al Qaeda fighters are believed to be occupying the southern and eastern regions of Yemen in an effort to expand a safe haven and strengthen forces, U.S. officials familiar with the situation tell Fox News.
The officials described the threat to the U.S. as consistent and persistent.
"We work on the assumption that  (Al Qaeda in the Arabian Peninsula) is coming after America every day," the officials said. These are "extremists who joined a violent death cult. Their goal is to martyr themselves."
They also said Al Qaeda has been able to leverage the Arab Spring movement in which Arab citizens revolted against governments in Egypt, Libya and elsewhere, making sizeable gains since March of 2011.
U.S. officials say there is now a significant presence in six Yemen provinces, centered around Abyan in the south and compared to three provinces a year ago.
In recent weeks, the Yemeni military has been able to bring the group's expansion to a temporary halt. U.S. officials described this development as positive news.
The officials also said Saudi-born Ibrahim al-Asiri is the top bomb technician and that he is actively training replacements. They said the training is to avoid "a single point of failure" should he be taken out.
Fox News was told that four significant plots, including two targeting the U.S. airline and cargo industry, were developed in the group's safe haven.
While not going further than clearly suggesting the recent leak about a new underwear bomb from the group in Yemen was negative, there is a growing chorus of criticism on Capitol Hill that the leaks may cost American lives.
Reinforcing how Al Qaeda in Yemen is seen as the primary or dominant threat, the head of the Transportation Security Administration, John Pistole, testified before lawmakers Thursday that the non-metallic explosives — the type perfected by the AQAP bomb maker that can evade traditional airline security — is the significant threat to airline security.
While U.S. officials say the numbers ebb and flow, Al Qaeda in Yemen is on the ascent while Al Qaeda core in Pakistan appears to be on a downward spiral. Al Qaeda's No. 2, Abu Yahya al-Libi, was killed Monday in Pakistan.
This is a copy of the full article provided by Fox News