The Egyptian army has begun clearing demonstrators and the media from outside Cairo's presidential palace.
It follows violent overnight clashes between supporters and opponents of President Mohammed Morsi that left five people dead and 644 injured.
Most protesters left the area by the 15:00 (13:00 GMT) deadline, though some opposition activists remained.
Meanwhile, Egypt's top Islamic body has called on the president to suspend his decree claiming sweeping powers.
The Al-Azhar institution also demanded an unconditional dialogue between the president and his opponents.
Army reassurance
Tanks and armoured troop carriers were deployed outside the presidential palace on Thursday morning following the overnight clashes between the pro-Morsi Muslim Brotherhood supporters and his mainly secular opponents.
The head of Egypt's Republican Guard said the forces had been sent there to separate the rival protesters.
Following a meeting between the president and military commanders, the 13:00 GMT deadline to clear the area round the palace was set. A ban on all protests in the area has also been ordered.
But the commander of the Republican Guard, Maj Gen Mohammed Zaki, said the security forces "will not be a tool to crush protesters", telling Mena: "No force will be used against Egyptians."
The Muslim Brotherhood supporters left the square before the deadline, but a few dozen opposition supporters remained in place. The scene was calm, however, and there was no sign of any attempt to breach the military's barriers.
The opposition has said it will continue to hold demonstrations.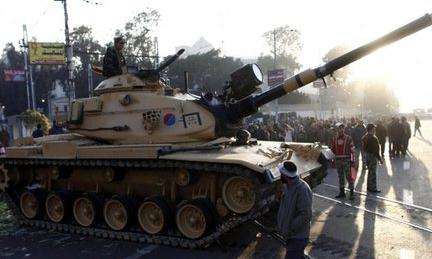 "We are planning marches later today, most probably taking off from Tahrir Square, disregarding the Republican Guard's decision," said an unnamed member of the National Salvation Front, a recently formed group which has united some of the most prominent anti-Morsi figures.
"We had many injuries last night, and we are not going to have their blood wasted."
BBC has the full article