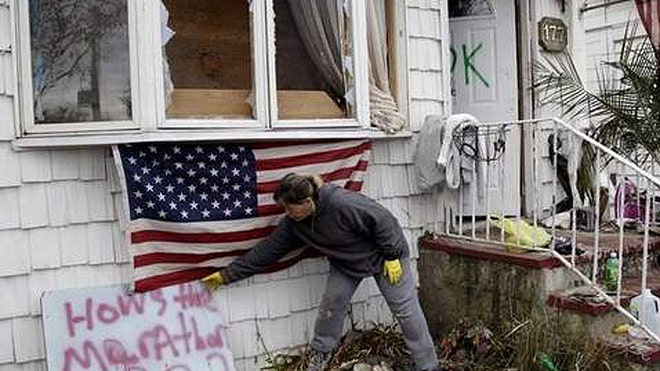 Just as the beleaguered Northeast struggles to get off the canvas after superstorm Sandy, a nor'easter is brewing that will sweep through the region beginning Wednesday, bringing freezing temperatures, high winds, more flooding and possibly snow.
As the nation prepared to choose a president, many flood-ravaged residents of the New Jersey and New York coasts are still without power and trying to find shelter, salvage possessions and get essentials like gas, batteries and food. And adding urgency to their task is a storm developing off the coast of Georgia tonight, which is expected to strengthen as it moves north, with the same area Sandy hit in its crosshairs.
"The Saga of Sandy continues as we are left with an exposed population in coastal areas with a powerful storm in its own right coming," said meteorologist Joe Bastardi of WeatherBell.com.
Bastardi said an area of high winds "with an eye-like structure" will emerge off the mid-Atlantic coast by Wednesday night. He said it could produce a surge of seawater, which could flood coastal homes anew and further erode devastated shorelines.
The National Weather Service deemed the nor'easter "significant," and said it's on track to hit the New York area as early as dawn on Wednesday. The storm could bring wind gusts of up to 60 mph, which could cause more power outages and hamper recovery efforts. It could linger for days, bringing several inches of rain, according to officials. The greatest risk of new coastal flooding was expected Wednesday night, when rains could combine with evening high tide.
"It's going to impact many areas that were devastated by Sandy. It will not be good," said Bruce Terry, the lead forecaster for the National Weather Service.
The American Red Cross, already encamped in hard-hit areas along the Jersey Shore and in New York's Staten Island, Queens and Long Island, summoned extra supplies to the region as the storm gathered.
Fox News has the full article