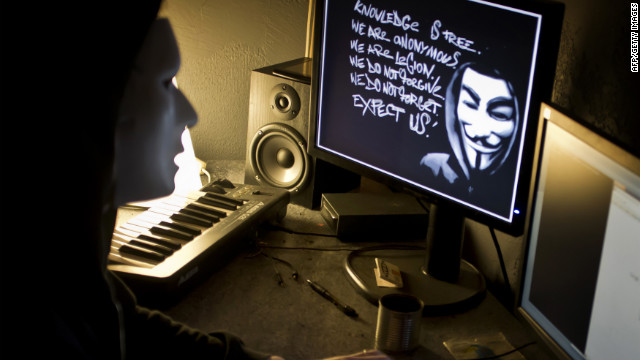 (CNN) — When a group halfway around the world, without setting foot on American soil, can claim responsibility for preventing a man in Wichita, Kansas, or a woman in Shreveport, Louisiana, from gaining online access to his or her own money in the local bank, it would seem to be a pretty big deal. Something to worry about.
That is allegedly what happened in recent weeks, as six big U.S. banks had their websites jammed, one after another, preventing their customers from logging on to their personal or business accounts, and from paying bills online.
The banks affected were Bank of America, JPMorgan Chase, Citigroup, U.S. Bank, Wells Fargo and PNC. A hacker group, saying it was based in the Middle East, asserted it was behind the cyberattacks; it remains uncertain whether they, or someone else, carried out the attacks.
"White House Press Secretary Jay Carney downplayed a report that Chinese hackers had infiltrated a secure national security network used to control nuclear codes, saying the perpetrators breached an 'unclassified' system.
"There is 'no indication whatsoever that exfiltration of data' occurred, he told reporters. . . Such attacks, he added, 'are not infrequent.'"
Any time the prefix "cyber" appears in front of another word — cybercrime; cyberterrorism; cyberwarfare — it can have the effect of making the concept seem slightly less substantial. It's sort of like when the word "virtual" precedes a standard-issue noun: virtual reality is not reality; a virtual store is distinct from a brick-and-mortar operation.
But as we live more and more of our lives online, and as basic needs such as electricity, water supply, transportation and communication depend increasingly on digital commands, the distinction is rapidly disappearing. Disrupt the digital world and you disrupt real lives — you throw daily existence into uncharted territory.
After the terrorist attacks of September 11, 2001, we were told that there had been ample warning signs that went unheeded. If there ever is a concerted and darkly effective cyberattack on the United States — one that robs millions of people of baseline necessities — we won't be able to say that no one told us this might someday happen. We have been told, for years.
CNN has the full article