Watch Amanda Rose give her perspective on bees.
World's first 3D printed metal gun unveiled
Engineers at the Texas team of a custom manufacturing company want to make 3D printing more than a novelty, and may have accomplished just that with their latest endeavor: a high-powered, fully functioning metal handgun.
The team at Solid Concepts announced this week that that they've successfully designed, printed, assembled and (accurately) fired a 1911 pistol created using digital blueprints that were fed through an industrial 3D printer loaded with powdered metals.
"We're proving this is possible," Kent Firestone, Sound Concepts' VP of additive manufacturing, said in a statement this week. "[T]he technology is at a place now where we can manufacture a gun with 3D Printing."
RT has the full article
Swiss scientists have confirmed that tests show the late Palestinian leader Yasser Arafat had high levels of radioactive polonium in his body. However, they could not say whether polonium poisoning had caused his death in 2004. Their report concluded that Arafat's remains showed levels of polonium 18 times higher than normal. Arafat's widow, Suha, has reaffirmed to the BBC her… Read more →
A potentially deadly mosquito has made its way to central California. The invasive species has been found in a dozen states, and the health risks are extremely troubling. Bigad Shaban reports on the latest infestation from Clovis, Calif.
The World Health Organisation has recorded the first suspected outbreak of polio for 14 years in Syria, sparking renewed alarm at the collapse of health care caused by the country's civil war. Doctors in Syria are also seeing a flare-up of typhoid, hepatitis, and the flesh-eating parasite, leishmaniasis, blamed partly on the inability to administer a proper vaccination programme and partly… Read more →
Radioactivity levels in a well near a storage tank at the Fukushima nuclear power plant in Japan have risen immensely on Thursday, the plant's operator has reported.
Officials of the Tokyo Electric Power Company (TEPCO) said on Friday they detected 400,000 becquerels per liter of beta ray-emitting radioactive substances – including strontium – at the site, a level 6,500 times higher than readings taken on Wednesday, NHK World reported.
The storage tank leaked over 300 tons of contaminated water in August, some of which is believed to have found its way into the sea through a ditch.
The well in question is about 10 meters from the tank and was dug to gauge leakage.
TEPCO said the findings show that radioactive substances like strontium have reached the groundwater. High levels of tritium, which transfers much easier in water than strontium, had already been detected.
Officials at TEPCO said they will remove any contaminated soil around the storage tank in an effort to monitor radioactivity levels of the water around the well.
The news comes after it has been reported a powerful typhoon which swept through Japan led to highly radioactive water near the crippled nuclear power plant being released into a nearby drainage ditch, increasing the risk of it flowing into the sea.
On Wednesday TEPCO said it had detected high levels of radiation in a ditch leading to the Pacific Ocean, and that it suspected heavy rains had lifted contaminated soil.
RT has the full article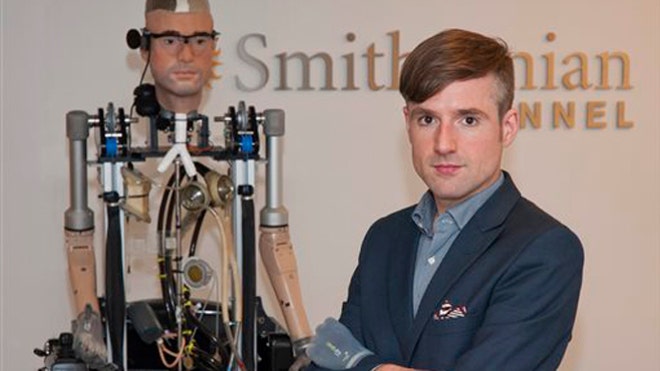 Gentlemen, we can rebuild him, after all. We have the technology.
The term "bionic man" was the stuff of science fiction in the 1970s, when a popular TV show called "The Six Million Dollar Man" chronicled the adventures of Steve Austin, a former astronaut whose body was rebuilt using artificial parts after he nearly died.
Now, a team of engineers have assembled a robot using artificial organs, limbs and other body parts that comes tantalizingly close to a true "bionic man." For real, this time.
The artificial "man" is the subject of a Smithsonian Channel documentary that airs Sunday, Oct. 20 at 9 p.m. Called "The Incredible Bionic Man," it chronicles engineers' attempt to assemble a functioning body using artificial parts that range from a working kidney and circulation system to cochlear and retina implants.
The parts hail from 17 manufacturers around the world. This is the first time they've been assembled together, says Richard Walker, managing director of Shadow Robot Co. and the lead roboticist on the project.
Fox News has the full article
In this Wednesday, Oct. 9, 2013 photo provided by Showtime, Bertolt Meyer, a social psychologist for the University of Zurich, poses for a photo in New York. Meyer is the face of the the Bionic Man and is featured in the Smithsonian Channel original documentary, "The Incredible Bionic Man." (AP/SHOWTIME/JOE SCHRAM)
Scientists and researchers may one day be able to manipulate rain and lightning using lasers. "CBS This Morning" contributor Michio Kaku, a physics professor at City College of New York, talks to Charlie Rose and Norah O'Donnell about the potential future of weather.
CNN's Drew Griffin witnesses a raid on synthetic designer drugs, a dangerously potent option flooding the U.S. More from CNN at http://www.cnn.com/
The new flu which has emerged in China has unique traits, say scientists. It is able to infect both the nose, giving it the potential to spread easily, and penetrate deep in the lungs where it causes pneumonia. The authors of the American Journal of Pathology say the twin attack has not been detected in previous bird flus. Meanwhile, a… Read more →