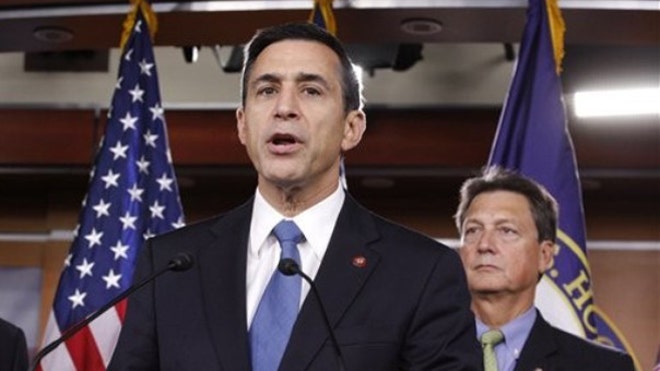 A House investigative committee said Tuesday it has obtained new information from wiretaps related to the Obama administration's Operation Fast and Furious that suggests high-ranking officials know more than they are telling Congress about the flawed weapons sting.
The announcement appears to be the latest attempt by GOP Rep. Darrell Issa, chairman of the House Oversight and Government Reform Committee, to press U.S. Attorney General Eric Holder into providing Congress with more information about the operation and an account of which officials knew about any problems — and when.
"The wiretap applications show that immense detail about questionable investigative tactics was available to the senior officials who reviewed and authorized them," Issa said in a June 5 letter to Holder. "The close involvement of these officials — much greater than previously known — is shocking."
The operation — started in 2006 and run by the Bureau of Alcohol, Tobacco, Firearms and Explosives — provided thousands of guns to purported arms dealers across the U.S.-Mexico border in hopes the weapons would lead them to organizers of drug cartels.
However, the guns were used in Mexican street crimes and at least one was purportedly used in a 2010 shootout in which U.S. Border Patrol agent Brian Terry was fatally shot.
The wiretaps were intended to allow investigators in Arizona to listen to the phone calls of suspects as part of the strategy to reveal evidence of involvement by high-level Mexican cartel associates. The six applications for wiretaps, which have been sealed by a federal judge, detail specific actions taken by agents involved in the operation, the committee said in a statement.
The information shows the officials made "conscious decisions" not to interdict weapons that agents knew were illegally purchased by smugglers taking weapons to Mexico, according to the statement.
Holder has said he has given congressional investigators all of the relevant information.
Issa, R-Calif., issues a subpoena in October 2011 for the remaining documents and last month asked House Speaker John Boehner to support his plans to hold Holder in contempt of Congress for failing to meet the subpoena deadline.
The committee also said the information in the wiretaps had been requested in the subpoena. The content of the wiretaps cannot be made public because they are sealed.
This is a copy of the full article provided by Fox News