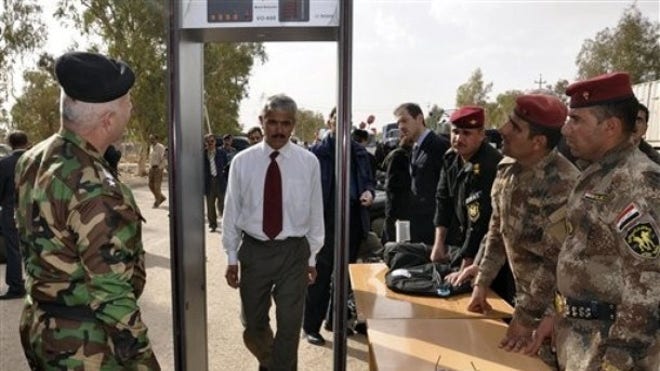 The Obama administration is poised to remove an Iranian opposition group from the United States' list of terrorist groups, officials briefed on the talk told the Wall Street Journal, in a move sure to upset Tehran as nuclear talks between the countries intensify.
The exile organization, the Mujahedin-e Khalq, or MeK, was named a terrorist group 15 years ago for allegedly being involved in assassinating U.S. citizens before the 1979 Islamic revolution in Iran, but the group had pursued an aggressive lobbying effort in Washington to clear up its status.
Being on the list means MeK's assets inside the U.S. are frozen and it is blocked from fundraising.
Secretary of State Hillary Clinton has yet to make a final decision, senior U.S. officials told the Wall Street Journal on Monday, but they suggested the department is looking favorably on the request to remove MeK from the terrorism list if it continues to leave a former military base in Iraq where it has been living in exile.
MeK already has renounced terrorism, though residents of the encampment, known as Camp Ashraf, have feared retribution if they leave the camp and return to Iran. There are 1,200 left at the camp, down from about 3,000.
A decision by Clinton is expected within 60 days of the last of the group leaving Camp Ashraf. The U.S. is working with the United Nations to resettle members of the group in other countries.
Warnings by Israel that it may attack Iran's nuclear facilities eased after Iran and the six powers trying to persuade Iran to make nuclear concessions met last month and agreed there was enough common will for another round in Baghdad on May 23. But with the Jewish state saying it is determined to stop Iran before it develops the capacity to build nuclear weapons, failure at the Iraq talks could turn such threats into reality.
Fox News has the full article